Resin Encapsulated Transformer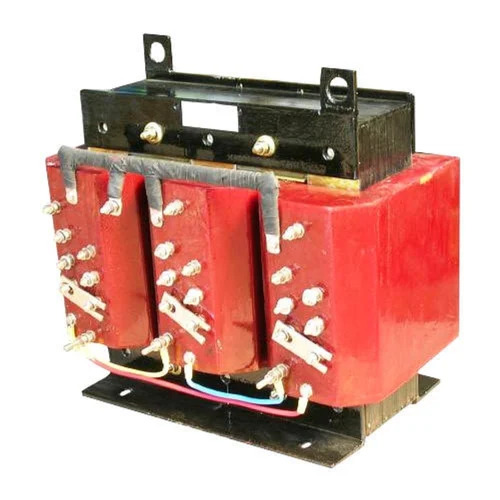 Resin Encapsulated Transformer
Product Description
High quality resin encapsulated transformer is offered by us that is in which one or more of the transformer's components are completely sealed. One example of a component is the transformer's coils. This process of encapsulation protects the transformer from dirt, dust, moisture, and any other contaminants. It is covered in a thicker coating of insulation than typical. Often the coils are completely encased in epoxy or an epoxy and aggregate mixture. The resin encapsulated transformer is made for easy installation.
We are leading manufacturers and exporter of Cast Resin (Resin Encapsulated) Transformer. The materials used ensure high durability, strength and resistivity to conditions favouring corrosion and abrasion.
Key Specification of Resin Encapsulated Transformer:-
Power Rating Up to 1000 KV

Nominal Voltage Up to 11

Resistant to Short circuit (Highly Mechanical Strength)

Non Inflammable

Less Maintenance

Highly Resistance to Moisture

High Overload Capacity

Long Shelf Life

No Leakage of Oil
Product details of Resin Encapsulated Transformer:
| | |
| --- | --- |
| Ambient Temperature | plus/minus 60 Degree C |
| Application | Distribution Transformers, Power Transformers, Transformers for static converters |
| Phase | Three Phase |
| Cooling Type | Cast resin |
| Output Voltage | Up to 11 Kv |
| Power (VA) | 1000 Kva |
FAQs of Resin Encapsulated Transformer:
Q1: What is a resin encapsulated transformer?
A1: A resin encapsulated transformer is an electrical transformer that has its windings and center encapsulated in a strong resin material, giving security against ecological variables like dampness, residue, and vibration.
Q2: Where are resin encapsulated transformers normally utilized?
A2: Resin encapsulated transformers are generally utilized in outside applications, for example, lighting, traffic lights, and modern apparatus, as well as in unforgiving conditions where customary transformers may be presented to dampness or impurities.
Q3: What are the upsides of resin encapsulated transformers?
A3: A few benefits of resin encapsulated transformers incorporate brilliant security against ecological elements, improved sturdiness, protection from erosion, and the capacity to work in a great many temperatures.
Q4: Can resin encapsulated transformers be utilized inside too?
A4: Indeed, resin encapsulated transformers can be utilized inside, particularly in applications where security against dampness, residue, or destructive gases is fundamental. They are flexible and can be utilized in different conditions.
Q5: Are resin encapsulated transformers more costly than customary transformers?
A5: Resin encapsulated transformers can be more costly than customary transformers because of the extra materials and assembling processes engaged with typifying the unit in resin. In any case, their drawn out strength and assurance against ecological elements can legitimize the greater expense.
Trade Information
Customized packing.

An ISO 9001:2008, ISO 2001:2000 & ISO 9001:2000 certified company